Manchester Revisited : The Complete Stone Roses - Definitely Oasis & Frankly, The Smiths
2023sat11nov7:30 pmsat11:30 pmManchester Revisited : The Complete Stone Roses - Definitely Oasis & Frankly, The SmithsStanding / Seating in Balcony
Time

(Saturday) 7:30 pm - 11:30 pm
Event Details

A Night of Manchester music with live performances from The Complete Stone Roses, Definitely Oasis & Frankly, The Smiths !!!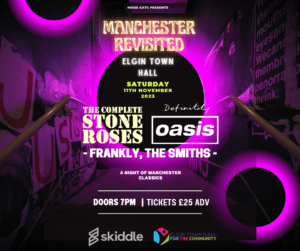 The Complete Stone Roses are one of the UK's most well-known, most seen and most successful tribute bands. Selling out venues across the UK and Ireland regularly, they have helped to carry on the music of one of the UK's most influential bands – The Stone Roses. The Stone Roses played a pivotal role in the history of the UK's indie music scene. Famous hits like Fools Gold, I Am The Resurrection and I Wanna Be Adored are as recognisable now as were the heyday of Madchester and the Hacienda, the cultural icons from which the original band were born. The Complete Stone Roses play to acclaim from fans themselves, the press, and even original Stone Roses band members. Stone Roses bass player Mani says 'they do our songs real justice. At times, they play even better than we did'.
https://www.facebook.com/thecompletes
Definitely Oasis are regarded by many Oasis fans and promoters alike as the best Oasis tribute band there is! Everything the band does is all about what the fans want to see and hear and a lot of hard work goes on in the background making sure that the look and sound are bang on, so much so that the band played a sold-out show at the iconic barrowland's venue in 2016, a venue loved by both Liam & Noel Gallagher and where Oasis played arguably some of their finest ever shows including the 10 Years Of Noise And Confusion gig that was shown live on Sky Box Office in 2001 (another first for an Oasis tribute band which shows why they are the best Oasis tribute in the Business).
https://www.facebook.com/definitelyoasisnet
Frankly, The Smiths are quite simply the best tribute to The Smiths there is!!'
https://www.facebook.com/franklythesmiths
EARLY BIRD TICKETS £20+bf (under 16's accompanied by an adult)
Licensed Bar
Open from 7pm in the ETH Lounge
Tickets
Tickets are not currently available for this event.