Foster and Allen Tour 2023
2023tue25apr7:30 pmFoster and Allen Tour 2023Seated Event
Event Details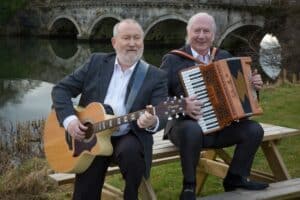 International Recording artists Foster & Allen look forward to Celebrating 48 years in the Music Business with their UK Tour in April 2023.
To coincide with the Tour, they have released a new album on CD & vinyl, aptly entitled "We'll Meet Again" which features their version of the Vera Lynn Classic song as well as other new recordings and some original songs.
Mick & Tony will of course be performing all their Hits like "Bunch Of Thyme" (it was the 40th Anniversary in February 2022 that Foster & Allen appeared on Top Of The Pops performing Bunch Of Thyme), Old Flames, Maggie, After All These Years, We Owe It All To You, Mrs. Brown's Boys, as well as some new recordings from their new album.
Foster & Allen's style and easy listening sound remains as fresh and exciting as ever. They really enjoy the business they are in, especially the live concerts.
For A Night To Remember Don't Miss Foster & Allen at Elgin Town Hall on Tuesday 25th April 2023.
Licensed Bar
Bar open from 6.30pm in the ETH Lounge.
Tickets
Tickets are not currently available for this event.