Graffiti Classics
2024fri15mar7:30 pmGraffiti ClassicsSeated Event
Event Details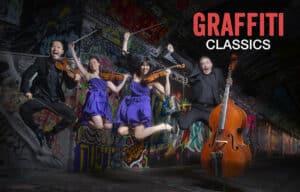 Graffiti Classics
The world-renowned comedy string quartet
Who are Graffiti Classics?
16 strings, 8 dancing feet and 4 voices with one aim: to make classical music wickedly funny and fantastically exhilarating for everyone, young and old. Graffiti Classics bursts the elitist boundaries of the traditional String Quartet with its hilarious all-singing, all-dancing musical comedy show. It's a classical concert, a gypsy-folk romp, an opera, a stand-up comedy set and a brilliant dance show all rolled into one! There really is something for everyone and Graffiti Classics never fails to get audiences laughing, clapping, and singing along. Adults and kids alike love the uplifting and virtuosic variety of musical styles, all tied together with cheeky audience interaction.
Graffiti Classics was formed by a group of young graduates from London's top musical conservatoires who met whilst street-performing in London's Covent Garden. They decided that classical music should be made fun and inclusive for everyone through inter- action and comedy, creating a unique and world-class virtuosic comedy show. Since then, the group has performed in major theatres across the UK, Malaysia, Vietnam, Sweden, Germany, Holland, Estonia, USA, Norway, Italy, Denmark, Greece, and Ireland, appeared on national TV and radio in the UK, Ireland and Spain, played for presidents and royalty, appeared as guest artists with major orchestras, such as the Royal Philharmonic, is a member of Yehudi Menuhin Live Music Now scheme. They are regular visitors to Taiwan and have now started touring mainland China.
"A delightful comedy string quartet…. highbrow music finds fusion with visual comedy for those who choose to smile their way through classical music." The Stage
"A cabaret that will leave you wanting more." Daily Mail
"A simply wonderful show!" The Times
"Unique! A real gem" Irish Post
"They had the audience falling off their seats with laughter." Western Gazette
"Graffiti simply mesmerised the audience." Enfield Independent
"A terrific quartet… the fab four earned themselves a standing ovation with a scintillating repertoire." Nottingham Post
Licensed Bar
Open from 6.30pm in the ETH Lounge